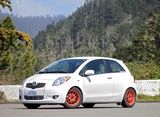 My wife and I took a road trip to Healdsburg, CA last week. Great time, amazing drive up HWY 1 and 101 (and an amazing road outside of Healdsburg called Skaggs Spings Rd.).
Anyway, these are my new wheels: 15x6.5" Konig Daylites (+40) with 195/55/15 Yokohama S.Drive tires. After 2,000 miles, I love the tires; much sticker than my Falken Ziex 912 all-seasons. Great in the wet, have yet to break traction with them on the twisties.
Also took the Yaris through the Drive-Thru tree in Leggitt.