1st Annual Relay for Life Benefit Poker Run
April, 19th - 2014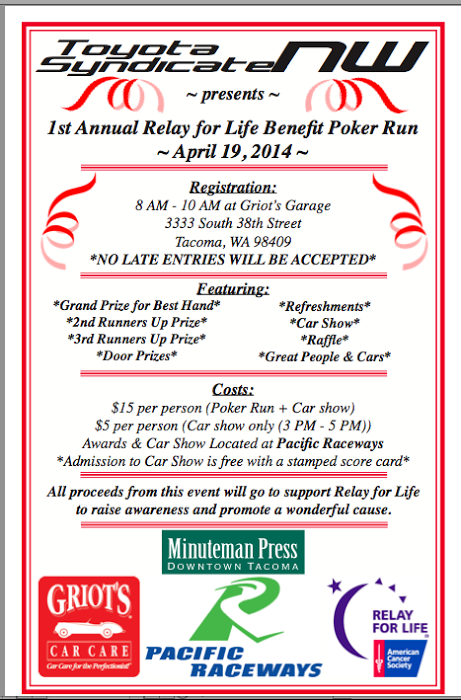 Cost:
$15 per person (Poker Run + Car show) $5 per person (Car show only.)
Admission to the car show is free with a stamped score card.
All proceeds from this event will go to support Relay for Life to raise awareness and promote a wonderful cause.
Relay For Life events are life-changing cancer fundraising events that help communities across the globe fight back against cancer. Each year, more than 4 million people in over 20 countries raise much-needed funds and awareness to save lives from cancer through the Relay For Life movement.
For more information, conact our Event Coordinator, Shi at
tsnwonline+events@gmail.com
Location Description
Registration will open at 8:00 AM at Griot's Garage in Tacoma, WA. There is a limited amount of space and registration will CLOSE at 10:00 AM. *NO LATE ENTRIES WILL BE ACCEPTED.*
The Poker Run has 5 stops along its way to our final destination. Participants will receive a map to the first location in their registration packet, and at each stop will receive a map to the next stop.
Our final destination and location of our 2014 Car Show is Pacific Raceways in Kent, WA.
Overview
After registration, participants will receive a packet containing a score card, the official rules, an ID tag for both themselves and their vehicle and a map to the first stop. For those who don't know how a poker run works: There are 5 stops along the route for the day. At each stop, you will be dealt one card and given a map to the next stop location. The object of the game is to make the best 5 card poker hand with the cards you are dealt at each of the 5 stops. Prizes will be awarded for the best 3 poker hands at the final stop. This final stop will also include food and drink, live DJ entertainment and a meet and greet/car show. Admission to the car show is free with a stamped score card, $5 without, but you are
not required
to participate in the Poker Run to attend the car show.
Details / Itinerary
Registration:
8:00am
to
10:00am.
First car out
10:30am
, last car out
NO LATER THAN 11:30am
.
Plan for about 1 1/2 hours of
actual drive
time.
Poker Run participants must check in at final meet point by 3:00pm, car show starts as cars arrive.
There is a car wash in Covington if you'd like to stop there before the car show.
Route Map / Screenshots
Meet point/Registration: Griot's Garage, 3333 S 38th St, Tacoma, WA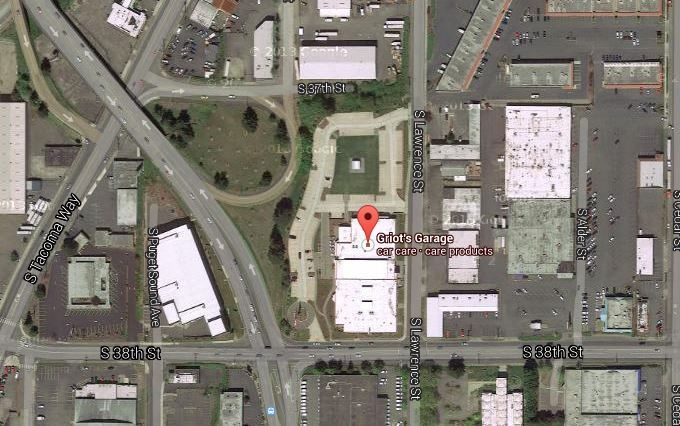 Final meet point/Car Show: Pacific Raceways, 31001 144th Ave SE, Kent, WA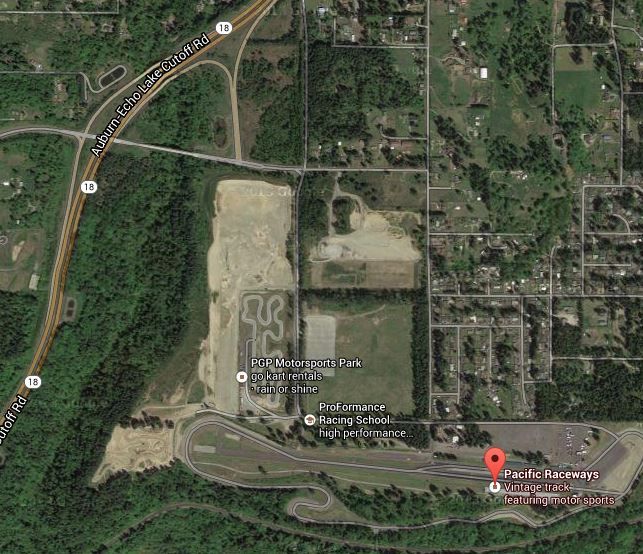 We hope to see you all there!!!