I have been searching the internet for a long time to find how to install a tach on my tach-less 2010 base hatchback Yaris. There is one here on this site but it is not that clear so I decided to make one with clear images and what wires to use. I'm going to include wiring diagrams to help those who can read them find wires easier but if you cant read one that ok, you can still follow along the pictures and ill try to make it as clear as possible where everything is and what I used. Remember I'm giving step by step for MY CAR, the 2010 Yaris hatchback base edition. if you have a new/older one or model s, things might differ a bit and you'll have to do research on whatever is different from what I have. If you can't find anything pls ask me anything as I know how hard it is finding reliable info online. even if you see this post a month or year from now. someone else might see and answer your questions. Good luck.
The tachometer I used is this cheap one from amazon here is the link
https://www.amazon.com/gp/product/B0...?ie=UTF8&psc=1
as you can see it has four wires, green, red, black and white. White is the light in the tach. black is ground. red is power. and green is the tach. colors may vary depending on your tach so read the instructions and figure out which is.
I'm gonna start with the most important one and it's the green (tach) one. On a 2010 hatchback Yaris, there are 3 places (that I know of) where you can get a tach signal. first is the ecu it self in the engine bay on the passenger side, which is hard and annoying to reach and if you break it, it's an expensive repair so i would refrain from getting it from there. Second is the Tire Pressure Warning ECU which is infront of your passenger under the dash. That one is far and you have to run the wires back to the other side of the dash unless you want your tach on the passenger side. The last and the one I used is the DLC/OBD connector. The DLC has a tach wire in pin 9 as you can see below. (uploaded the diagrams in pdf and png format for lower spec computers)
DLC diagram.pdf
The highlighted Green wire is the holy wire that will give us tach signal. in my car its orange because I have a Tire pressure warning system. that's the light that tells you your tire is flat/has low pressure
if you don't have that its gonna be green. most of us will have it though if my base car has it. That wire is located in the DLC on pin 9 and if you don't know where that is here is a picture of where to find it in the car and on a diagram (for my exact vehicle which is a 2010 Yaris Base Hatchback and not whatever else you may have)
here it is on the connecter face which as you can see is the top left in the diagram but if you are looking at the connector it is upside down like this \___/ and not /----\ like that. so for us it would be the back left corner if you are looking at it from above the DLC. which you can find by removing your little flip container above the hood latch release. as seen below.
After you find the correct wire, you can tap into it from above to get your signal. as you can see in my picture above, I used a blue wire clipped to the male end of one of these bad boys from amazon
https://www.amazon.com/gp/product/B0...?ie=UTF8&psc=1
and the female end you have to attach to the tach wire by clasping it really hard and make sure to put the wire in the right place or you'll cut it. here is a more close up picture of where the wire is in the DLC. this one shows where the tach wire is clearly.
. It might be hard tapping into it where it is so it will be a lot easier if you carefull pop the DLC from where it is sitting, it is easy and safe u can remove it and put it back because its a clip. if you take it out you can clip it on easier than trying to fit your gorilla hands through that small opening and also jamming pliers through there. You can run the wire behind the weather/door seal that is removable. i ran mine behind the dash and the seal all the way up and behind the driver side air vent and it was beautifully hidden.
Now the next hardest thing. Where to find power. On my car I got power from a connector that had power ONLY when the ignition was on so that the tachometer turns on only when the car is on or the engine is on. but basically it turns on before the engine does. The connector is located in the instrument panel which is right above the DlC as you can see below: in the wiring diagram and the picture. it is the green wire (that I tapped into with my red splice) that is above the blue and grey relays. The wire is connected to pin 3.
Instrument panel.pdf
and here is a better picture of where it all is
that is where you get power which is going to power your tach as well your tach's LIGHTING. so after you run a wire up to where you want, you have to strip the power and light wires on your tach (white and red) and then twist them together and connect them to the power wire from the car using this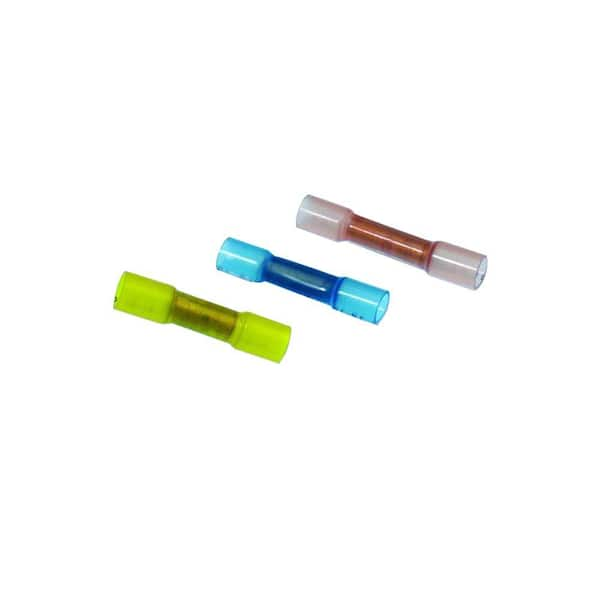 it is called a butt splice wire connector. your twisted power and light wire go in one end and you clasp the metal of the splice close to the hole opening where your wire goes in and give it a little tug and make sure it has good resistance and it doesn't come out. you dont want loose wire in the dash near the panel where other wires and connectors are. The other end is for your power wire from Instrument panel. in my case the blue wire.
And the last thing you need is ground. This one is easy so I left it for last incase people didn't want to read all this. I personally got my ground from a bolt near my foot rest (obviously to the left) near the door. First you have to remove piece number one in the picture below. its clipped so you can pull it and put it back one after you are done, make sure the carpet is tucked into it too so it looks good. i forgot to do dat. then remove panel two. (I have no idea how I took that one off it was kinda of trick and when I put it back it was kept in place by piece one in the picture, the 2nd connection i couldnt figre out how to put back on, there might be a little nut holding it but mine was missing cuz bad mechanics lost it)
after you have sucessufy removed them, you can get ground from this bolt below
how I did it is by getting one of these Terminal connectors
Then I unscrewed the bolt (it's a 10mm btw) and put the terminal ring on the bolt as you can see here again
then screw the bolt back in. now there are wires and connectors in the way so if it makes it easier, you can remove the 2 connectors by pushing their release clips as show in the pic below. When you pull them out make sure to pull lightly and slowly give it pressure. if you have trouble just wiggle it and make sure to pull all the wires if you are gonna remove it by pulling wires. be delicate with connectors as its an expensive fix.
now if you see above, under the white text there are wires that are tapped into but aren't connected to anything. you might have something there. I believe that's where the alarm/security system was or something like that but the mechanics I took it to removed it. so if it looks different down there, that's ok just find the one bolt there. once you have a wire connected to that ground you can run it bheind the weather seal and up near the AC vent. The weather seal is the grey dirty peace you see in this picture
you can pull it and also put it back on. and when its behind there, you can put there pieces back on and they wont interfere with the wire (the pieces in the pic below)
lmk if u need help.